Welcome to On The Tee Online
Read the Latest Updates from our On The Tee Review Team
This week's featured courses and happenings!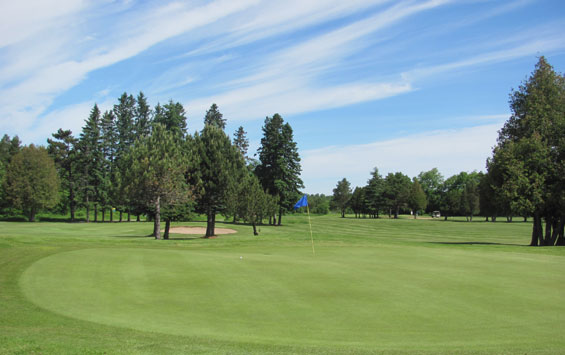 Concession #18
Orangeville Golf Club:
Where the first family of Hollywood came to play.
Caledon's picturesque hamlet of Melville is located five minutes southwest of Orangeville along the scenic Credit River Valley and is home to the Orangeville Golf Club. First built by Vaudvillian actor Arthur Huston in 1930 on his homestead, this quaint 9-hole facility is routed through large mature trees  and alongside Melville Pond. The surroundings are relaxing and the course is a treat to play if you are looking to enjoy nine holes.
Timber Ridge Golf Club, Brighton, Ontario
The 401 in Eastern Ontario is dotted with the blue attraction signs pointing you to the wide variety of golf courses that line the Highway. An exit at Highway 30 where the lighthouse directs you to Brighton, leads to a layout that if you haven't already veered off to enjoy, you need to. Timber Ridge Golf Course is a Stephen Ward design....
Royal Ashburn Golf Club, Whitby, Ontario
A well designed par three is a beautiful sight. With no shortage of wonderful par threes in the greater Georgian Bay and surrounding cottage country our crack editorial team set out to accomplish the nearly impossible, and unfair task, of compiling a Top Ten List. With more than 100 holes nominated we set out to review the list and found a case could be made for a great number of them deserving of Top Ten consideration. However, after much animated discussion, bargaining, negotiations and near donnybrook our committee managed to pare the list down to 10 but it was but no means unanimous. Any hole in the 50's could just have easily been in the top ten and vice versa. The only holes that we all definitively agreed upon were our top three selections.
Cobble Beach Golf Links, Kemble, Ontario
The development of Cobble Beach Golf Links in Owen Sound sparked the largest archaeological study completed in Grey County. The dig dispelled one of the area's oldest myths and brought murky history out of obscurity.
Dr. William Fitzgerald, archaeologist, first received a call from the Chippewas of Nawash First Nations in 1999: A headstone had possibly been vandalized. The marker in question belonged to Catherine Sutton, one of the most famous Aboriginals in Canada. The grave appeared to be on Willis McLeese's land. The 93 year old owner of Georgian Villas Inc. had recently purchased the Owen Sound property for development. The 574 acre parcel of land is bordered by Georgian Bay, Church Side Rd. E, Presquille Rd. and Grey Rd. 1.
Oliver's Nest Golf Club, Oakwood, Ontario
Ontario's Kawartha Lakes region is best known for cottage get-a-ways and  great fishing. Located just east of Lindsay in Oakwood, Oliver's Nest Golf Club is a Graham Cooke design that is a perfect place for another type of outdoor sportsman. Opened in 1994, the facility is considered one of the area's finest tests of golf. Routed along the Mariposa Brook and bordered by seemingly endless farm fields, there is a peaceful solitude when navigating the mounds, water courses and avoiding the deep grass and trees.....