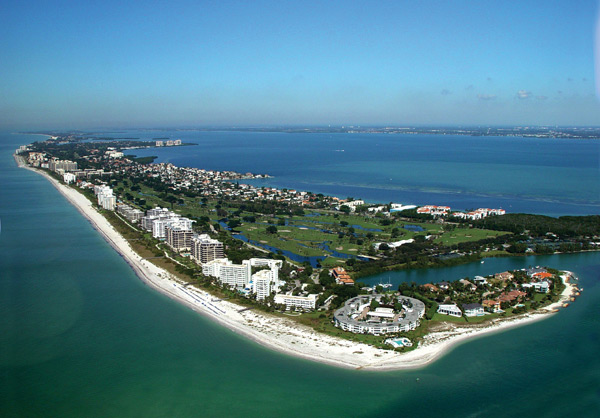 The Resort at Longboat Key Club:
A Gulf Coast Golf Oasis

Posted by Alistair Orr
Located on Longboat Key in the Gulf Coast's Sarasota Bay, The Resort at Longboat Key Club boasts two challenging, wonderfully conditioned, resort golf courses. The Links on Longboat Course (formally Islandside), designed by William Mitchell in 1960, resides on the resorts main grounds at the south end of the Key boardering the Gulf of Mexico. With water hazards on all 18 holes, accuracy is prized and Links on Longboat has justifiably earned the moniker "watery challenge". The Harbourside course is a 27 hole facility located 3 miles up the Key from the resort centre and overlooks the Club's private marina and the scenic Sarasota Bay. The Harbourside nines (Red Hawk, Blue Heron & White Egret) were originally designed by Willard Bird in the eary 1980's, with the Blue and Red undergoing a nip'n'tuck from Ron Garl in the mid 2000's.  The routing of all three nines feature many ponds and the fairways wind through stands of oak, palm, southern pine and palmetto trees. Sound course management with accompanying pure ball striking is at a premium on all 45 of the Longboat Clubs holes to master the swirling winds common to this beautiful gulf coast golf oasis.
Course Stats:
Harbourside
Blue Heron: Par 36, 2599 - 3401 yards [View Review: A Watery Stretch]
White Egret: Par 36, 2803 - 3426 yards [View Review: Beauty on Sarasota Bay ]
Red Hawk: Par 36, 2666 - 3323 yards
White/Blue: Par 72, 5402 - 6827 yards, rated 69.9 – 73.3, slope rating 126 – 137
Blue/Red: Par 72, 5198 - 6709 yards, rated 68.4 – 72.7, slope rating 122 – 138
Red/White: Par 72, 5469 - 6749 yards, rated 67.9 – 72.7, slope rating 118 – 131
Links on Longboat:
Par 72, 51 -6792 yards, rated 66.0 – 72.8, slope rating 114 – 132
Access: Available to club members and guests of the resort.
Location:
Longboat Key, Florida.
Contact:
The Resort at Longboat Key Club:
Longboat Key, Florida 34228