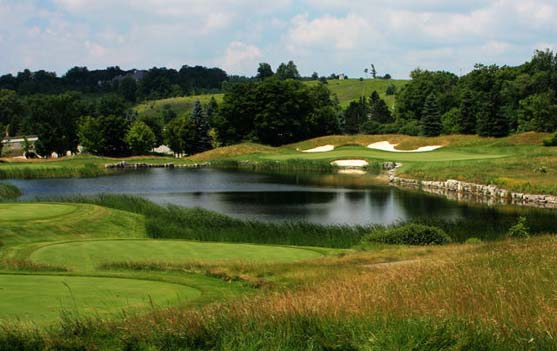 View Website
Devil's Pulpit Golf Club:
Publishers Pick: Hole # 16: Par 3, 119 - 230 Yards
There is always great debate among those who have played both the Devil's
Paintbrush and the Devil's Pulpit as to which course they think is a superior test of golf.
Some will argue that the Pulpit requires more demanding shot making abilities from tee to green while those in the Paintbrush camp will concede that the Paintbrush is not as demanding off the tee but the approach shots and greens are much more difficult to negotiate. I happen to fall into the Paintbrush camp. However, the most demanding shot on either course is the tee shot on the Par 3 16th at the Pulpit. Then again, the 13th at the Paintbrush has ruined many a good round also. And the debate goes on...
Description:
The 16th is an intimidating hole whether played from the front tee deck at 119 yards or the tips at over 230 yards. The approach from all tees is a forced carry over a large pond to a big green complex that has a ridge running from front to back and down the middle of the green. A lone bunker guards the front with two large bunkers protecting the back. There is no safe bail out area when the pin position is in a left front location. A ball coming up short or left is wet. The long ball will find the back bunker or fescue and a bail out right will leave a very long and slippery sloping putt. A par here will gain you the honour on the 17th tee more often then not.
Devil's Pulpit Golf Club
Caledon