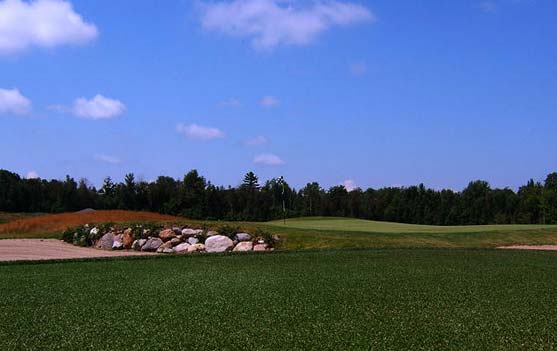 View Website
Vespra Hills GC
Hole # 15 Still Valley Course: Par 5, 463 - 540 Yards
Posted by Alistair Orr
I opened up an email from a friend the other day and was greeted with, "You really have to play this course!" He had just come off playing all 27 holes at Vespra Hills, a private facility in Barrie . The opportunity arose to test drive a few holes while researching our private course piece and it turned out to be well worth the trip for I found my signature hole for this issue.
Description:
The unique feature of this tricky par 5 is a waste bunker that runs almost the extent of the left hand side of the hole and then engulfs the entire green, creating an island in the sand. With a bunker left and lateral water hazard right in the driving area, this hole demands accuracy. It is a risk-reward hole but the risks are very high.
The key to playing this hole is to position your drive left centre avoiding the bunker on the left 220 yards out and the lateral hazard on the right. A mid iron second shot down the left side, short of the waste bunker, will result in the best angle to attack the pin. Attempting to hit this green in two is a disaster waiting to happen.
Vespra Hills GC
Barrie