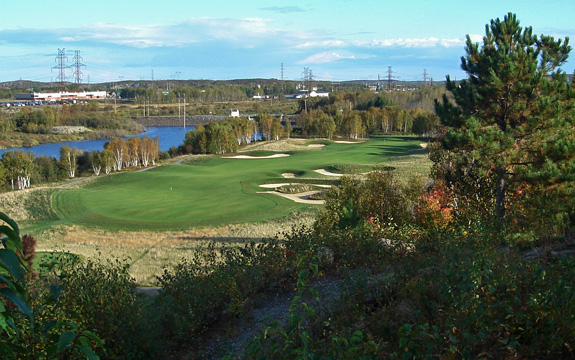 View Website
Timberwolf Golf Club:
The Howl of the North
Sudbury's nickel belt is home to a course fully worthy of the name "Timberwolf," tough, rugged and beautiful, carved from a unique pocket of the Canadian Shield where the heavy mining industry has blackened its granite outcrops, and stunted the vegetation. It is here that Thomas McBroom has massaged a one time wasteland into a fescue and birch tree landscape, with a variety of ponds and streams sure to test any links lover. You'll find spacious forgiving fairways, large greens with considerable undulations and some tricky hazards just for fun. Sloped at 137 and rated 74.4 from the tips, this layout was worthy of Canadian Tour stops in 2000 and 2001.
The course opens with a mid-length par 5 that has a risk/reward second shot to an elevated green protected by water. (So much for easing into things) Hole Five has one of the most spectacular tee-shots I have played. Getting to the top of the massive granite outcrop gives the feeling of accomplishment that Sir Edmund Hillary must have had climbing Everest. What a beauty! Six and Seven both require a true swing to deal with the forced carries over water and tricky greens. Nine completes the circle with a strategic par 5 that gives a multitude of options.
The back nine continues with more of the same generous bumpy fairways.  Eleven is an uphill dog-leg par 5 that takes two massive whacks to get there. The par threes on the back are both over water, with 13 needing a mid-iron finesse shot and 15 needing a mighty swing to land safely. Hole 17 forces you to hit a long iron into a green that best resembles a dimpled derriere. Eighteen gives you that last chance for birdie with another risk reward par 5 with a menacing creek crossing tempting you on your second shot.
The golfing purist will definitely enjoy the Timberwolf experience. McBroom's creative use of the natural features, great conditioning and friendly helpful staff are a winning combination. Their website has great deals and you can even register for a free round on your birthday.
Timberwolf Golf Club
Garcon
705-524-9653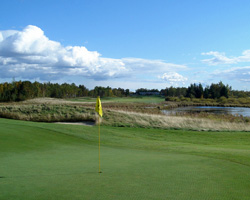 Hole 17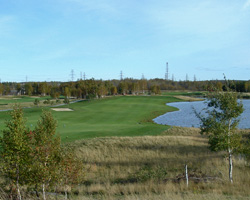 Hole 7