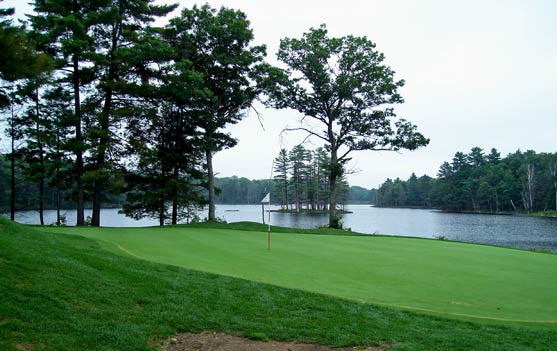 Seguin Valley Golf Club:
Rugged and Beautiful.
By Sandy Trapp
Just south of Parry Sound is a golf experience that will amaze you with its beauty and humble you with the demands it puts on your golf game. Take the Badger Road exit off the 400 and after a three minute drive you will find yourself at the first tee of one cottage country's truly great granite golfing experiences. Considering the vast collection of highly acclaimed premiere golf experiences birthed in the region over the last 25 years, including Seguin in that conversation is a bold statement. However, I challenge you to call me a liar after you have made your way around this routing.
This jewel is tucked away in the granite and wetlands surrounding Back Lake in Seguin Township. The golf club was the dream of a former pilot named Robert McRea who had a vision of a rugged championship lay-out with accompanying magnificent clubhouse. His vision for a world class layout came to fruition in the fall of 2003, however, financial and health issues arose and the striking log clubhouse was left incomplete. Sadly, McCrea did not live to see the the completion of the project due to his untimely passing in 2004. The project languished for several years until new ownership took over in 2009 and McRea's dream was revived.
The layout at Seguin is challenging, forcing you to hit every type of shot and use every club in your bag at some point in time during the round. The routing of the course utilizes the natural rugged landscape to shape some truly memorable holes that feature wetlands, lakes, creeks, rock cuts and dense woods to defend par. With the presence of so many natural defenses the need for bunkering is minimal with only 25 strategically placed throughout the course.
Right out of the gate the opening four holes give you an overview of what is to follow for the balance of the day with samplings of elevation changes, wetlands, ponds and the ever present famous Muskoka rock cuts that will need to be negotiated. Standing on the par 5 first tee water and wetlands are in your sightlines and the par 4 second hole presents a tricky green complex tucked behind a chasm to challenge your approach. The third hole is an early round wrecker with a downhill drive defended by a marsh and rock cut off the tee. Your second shot plays back up to a bunkerless, elevated sloping green complex with a granite outcrop front right waiting to deflect your ball deep into the woods. Your first crack at a short hole comes at the forth tee. Whether playing from the front tee at 102 yards or from the back tees at 188 you have the feeling of hitting into an amphitheatre with Knights Lake as a backdrop.

Signature Hole #7
The biggest challenge you will face on the front side is Seguin's signature hole.The par three 7th forces a carry over Back Lake to a green complex that slopes steeply from back to front. The unique feature of this hole is you have to drive over a floating bridge to reach the other side. Halfway across the bridge you will find a floating tee deck which acts as the drop area and the red and green tee blocks
The back side has some equally spectacular holes. Number 10 is a three shot par five that has nothing but trouble on both sides; keep it straight and keep it in play and a birdie opportunity may come your way. For those with a taste for adventure, you may find the risk/reward par 4 15th hole too tempting to resist. The risk taker will have a go at the green and attempt to cut the dogleg over the marsh and fronting creek to find the putting surface. There is no margin for error with this choice; it is either hero or zero. The wise shot is to play it safe to a thin landing strip of fairway setting up a short iron or wedge over a creek and wetland to the tricky cliff-hugging green.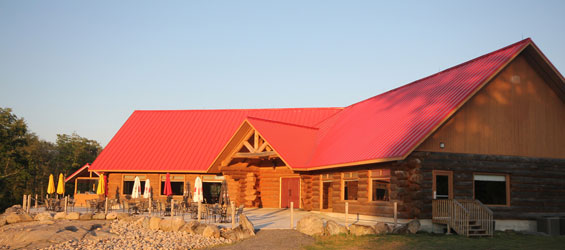 With the Robert McRea's original vision of turning this beautiful piece of Canadian shield into a championship golf course and majestic clubhouse achieved, and with an ongoing continuous improvement plan in place, it is onwards and upwards for today's team at Seguin Valley. For traveling golfers the club utilizes several cabins that abut the property and offers some attractive ing stay and play packages. A trek up the 400 to visit Seguin Valley is an item that must be added to your golf outing bucket list!
Contact
Seguin ValleyGolf Club
44 Badger Rd.
Parry Sound, ON
P2A 2W8
(705) 378-2555
| Tees | Yards | Rating | Slope |
| --- | --- | --- | --- |
| Black | 6795 | 73.3 | 144 |
| Gold | 6462 | 71.9 | 139 |
| Blue (M) | 6064 | 70.3 | 133 |
| Blue (L) | 6064 | 75.8 | 148 |
| White (M) | 5484 | 67.3 | 124 |
| White (L) | 5484 | 72.2 | 136 |
| Green(M) | 4937 | 64.6 | 115 |
| Green (L) | 4937 | 68.8 | 125 |
| Red (M) | 4445 | 62.9 | 109 |
| Red (L) | 4445 | 66.3 | 113 |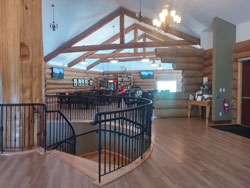 The Pub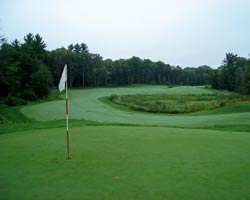 Hole #2
A Local Taste:
Parry Sound's Destination Craft Brewery Experience.
When former college friends Chris Pettinger and Dave Fusek decided to leave their careers and create a destination brewery experience in Parry Sound. It didn't take long to find a fitting name for their new company. Purchasing a piece of land on the south bank of the Seguin River to be the location of their brewery and taproom, the unmistakable view of the iconic trestle lead them to their brand name and new signature experience for those visiting this Georgian Bay vacation hotbed.
The contemporary designed, open-concept taproom experience brings the entire operation into sight. The indoor bar and seating area offers glass walls to catch the spectacular sunsets out over the bay. Perched above the Seguin River on the outdoor patio, you are afforded stunning views of the the bustling downtown, the trestle bridge, and the town's dock where you might catch a glimpse of the world-famous Island Queen. A modest menu, featuring a collection of pub grub is prepared in the kitchen, while the on-site retail store provides you a chance to takeout your favorite beverages.
Trestle's catalogue of brews, many named for locally significant places and experiences, began with their flagship Golden Ale; an easy drinking smooth lagered ale, in its signature yellow can. A pleasant variety of tasty treats flows from the taps, with 30000 Islands IPA, Helles Lager, and Rye Porter being their staples. A series of seasonal beers are part of the rotation, including summer and winter saisons, a marzan, a Belgian strong ale, an imperial stout and my favorite, the South Channel Session IPA.
Trestle Brewing Company
9 Great North Rd, Parry Sound