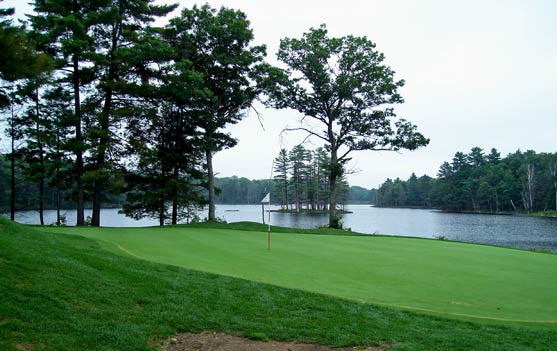 Seguin Valley Golf Club:
Rugged and Beautiful.
Just south of Parry Sound is a golf experience that will amaze you with its beauty and humble you with the demands it puts on your golf game. 
Seguin Valley Golf Club is not as well known as many of its northern cousins. This underexposed jewel is tucked away in the granite and wetlands near Back Lake just east of Hwy. 400.  The golf club was the dream of two former pilots who had a vision of a rugged championship lay-out and magnificent clubhouse. However, financial issues arose and the clubhouse was left incomplete. A new ownership group stepped in last year and have revived the dream and the clubhouse is nearing completion.
What the club has lacked in media exposure and glitz, it has more than made up for in the challenge and beauty of its layout. With the recent investment of the new owners it won't be long before Seguin receives the exposure and recognition it deserves.
Seguin Valley is a well groomed, challenging layout that will force you to hit every type of shot. The routeing of the course utilizes the rugged landscape to shape some truly memorable holes featuring wetlands, rock cuts and dense woods.
Elevation changes abound and water or marsh-land comes into play on a majority of the front side holes. The 3rd hole is a round breaker with marsh, an elevated sloping green and the need of some good luck. Number 4, with its numerous tee decks, gives you the feeling of an amphitheatre with the green backed by a hungry lake.  The par three 7th is the signature of this course. A 190 yard carry welcomes you to the green which requires you to drive over a floating bridge from tee to green.
The back side has some equally spectacular holes. Number 10 is a three shot par five that gives you plenty of options on how to play the hole. For a risk-reward adventure the par four 15th hole tempts you to go for the green by cutting the dogleg over the marsh or to play it safe to a thin landing strip of fairway giving you a wedge to a tricky cliff-hugging green.  
It is easy to see the original vision of this club with the framework of the magnificent cedar log clubhouse, terrifically challenging golf course rated 73.8 and sloped at 146 and beautiful Canadian shield landscape. Well worth the trek up the 400!
Seguin ValleyGolf Club
Otter Lake
(866) 286-4080