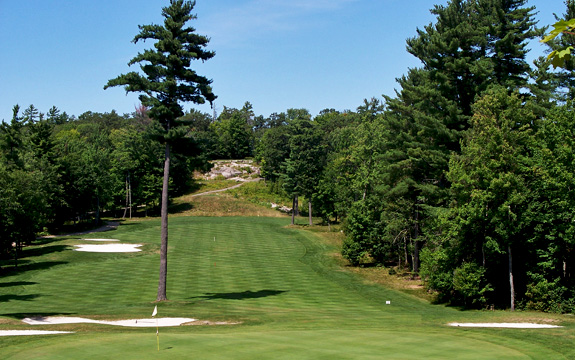 View Website
North Granite Ridge:
A Natural Beauty
Just south of Huntsville lies a challenging course that blends cottage country charm with remarkable Muskoka wilderness. It's hard to find a course in Muskoka that has this combination of natural beauty and good value.
This Jason Miller design, situated on a beautiful piece of Mother Nature's canvas is enjoyable and scenic. Former Owner Jim Cove looks back on the property he bought in 1991 and describes it as a former Gulf War Battle Zone, riddled with scrap cars and auto parts. Cove has since sold the golf course to Brian and Dave Hough, but not before he and Miller sculpted this once metallurgic wasteland into a pristine Muskoka golf experience any self-respecting junkyard dog would love to call home.
Your North Granite experience begins with a welcome from the friendly helpful staff in the quaint clubhouse. A trip to the range or have a session on the putting green will be a tremendous benefit to get you ready for the challenge that lay ahead.
The par 70 course offers three sets of tees depending on your ability. The blue tees, playing 6250 yards have a demanding rating of 70.5 and will test even those with single digit handicaps. The layout fits well into the landscape and is blessed with a large number of "course greeters" dressed as tame deer to welcome you throughout the round.
The course can and should be walked to get the terrific feeling of a day spent with nature, although, a cart is a definite plus to help with some of the elevation changes.
The front nine welcomes you off on a softer stretch of three holes, things get tight. Fairways lined with tall hardwoods, and greens guarded by sentinel trees present a formidable challenge to even the most accomplished shot maker. Holes five through seven, force you to hit blind tee-shots and approaches to elevated greens. Number nine, the number 1 handicap hole is a beast; thankfully it is downhill all the way to the hole.
The back nine is a wonderful mix. Elevation changes, rock faces, and wetlands present nine holes that are unique from each other. Signature Hole 12 is a short risk-reward par 4 that is downright nasty if you can't control distance and placement of the tee-shot. There is a large ridge creating a 2 tiered green and another menacing pine tree guarding it. The approach will test all you have. Seventeen and its 622 yards form the back tees, will humble all but the longest drivers. The second shot presents you with numerous shot possibilities. A par here feels like a birdie for sure.
This layout will surprise the first time visitor. It demands control, precision and deft shot making. North Granite Ridge provides the player with the right mix of golf and hospitality presented in a secluded, natural paradise. 
North Granite Ridge
Port Sydney
705-385-0808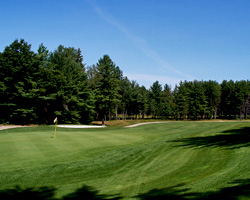 Hole 18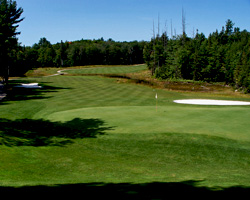 Hole 17