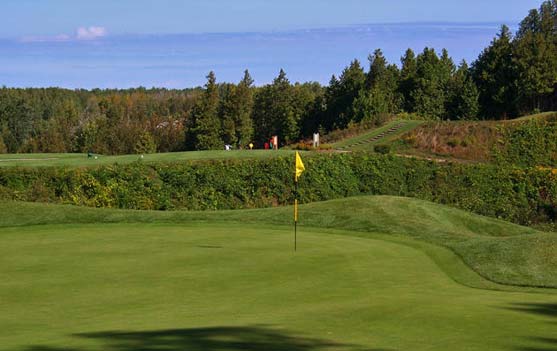 View Website
Monterra Golf Club:
Publishers Pick: Hole # 10: Par 3, 119 - 134 Yards
Posted by Alistair Orr
The Great Debate
Walk into the lounge after your next round of golf and pose the following question to your fellow comrades: "What hole do you think should be our signature hole?" Get comfortable because golfers are an opinionated bunch and a lengthy debate is about to ensue. Seeing as Southern Georgian Bay is our featured region this issue, I'll start the debate by offering up the 10th hole at Monterra as being their signature hole and one of the best par 3's around.
Apply named Stagefright, this demanding par 3 plays 134 yards from a gold tee perched atop Nipissing Ridge. Don't let the scenery distract you, for this sloping two tiered green is surrounded by pot bunkers and requires your full attention. The smart play is a shot to the middle of the green, do your best to two putt for par and tip toe to the 11th tee unscathed.
Monterra GC
Collingwood