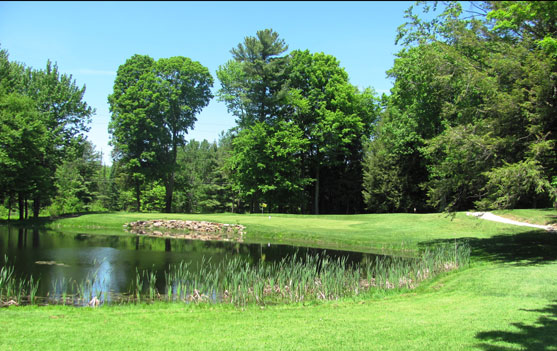 Signature Hole:
Publisher's Pick: #5 North Course Lake St George
Posted by Alistair Orr
Lake St. George's 27-hole facility is situated on 250 acres with holes routed through hardwood forest and over rolling meadows with deep valleys. Each of the three nines offers a distinct playing experience. The North nine, the original 9 built in 1952, is characterized by undulating fairways lined with pines and hardwoods with small sloping green complexes and is easily walked. The South, a 1972 Robbie Robinson design, features wider fairways, large putting surfaces and a meandering creek, with accompanying deep valley, dominates much of the nine. Bob Moote's West nine design was the final addition to the Lake St. George family in 2002. It may be the shortest in yardage but it is the most challenging shot making test of the three. Either a creek or a pond can be found on 7 of the 9 tight tree lined fairways and the greens are small and undulating. Proper club selection is at a premium on this side.
STATS
Lake St. George Golf Club
27 holes Par 72, 4048 / 6285 yards

Public
Location:
The course is located in just south of Washago less than 1 km west of Hwy 11 on Sparrow Lake Road.
Hole: 5 North Nine
Par: 3
Yardage:
Yellow: 87 yards
White: 118 yards
Blue: 152 yards
Description:
Whether you are playing North #5 from the front tees at 87 yards or from the back tees at 152 it is still a nerve wracking tee shot. The approach from all tees is a forced carry over a large pond to a wide, narrow green site that is protected by a rock wall front and bunkers long and left. The green slopes front to back so keeping the ball below the hole is recommended.
Proper club selection will set up a good birdie opportunity. However, in as effort to keep the ball below the hole the under clubbed choice will have you reaching for the ball scope. Long or left will leave a frightening bunker shot back down the sloping green towards the water. The bail out right is no picnic either presenting a sloping chip facing a similar challenge.
www.lakestgeorgegolf.com
(705) 689-5371