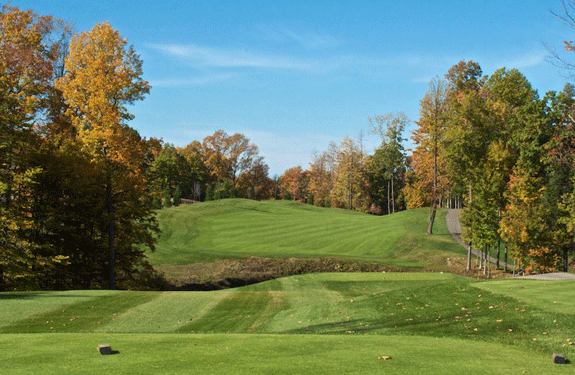 Beautiful Rolling Hills and Hardwoods on the Opening Hole

Whispering Woods Golf Club:
Ten Great Years of Golf in Erie Pennsylvania.
Posted by: Rick Parnham
For many Canadians the city of Erie, Pennsylvania is the place along Interstate 90, between Buffalo and Cleveland that has the left turn to Florida. To others, the city is a great shopping destination, with bargains and no sales tax. Whether you are driving through on your way somewhere else, or taking advantage of the deals, this Great Lakes port also has quite an array of golf to sample. With over a dozen courses in the area, the lakeside city of 100, 000 provides plenty of options should you have your clubs along for the drive. On a recent drive through Erie, I had the chance to stop and sample one its many facilities.
Whispering Woods, a premiere public-play facility is nestled in the city's southeastern woodlands a drive and wedge west of the I-90 and I-79 interchange. Designed by John Exley and opened in 2007, the course is proudly celebrating its 10th anniversary this season. The routing sits on a piece of property with plenty of dramatic elevation changes, crossing streams, wetlands and hardwoods. The layout incorporates all these character features masterfully to provide great variety in both the design of the holes, as well as the shot making demands. You are challenged with heavily treed fairways, hidden hazards, a few blind shots and many forced carries. Built to USGA specifications, the greens are generous in size and filled with enough slopes to confound even the most adept players with the flat stick.
Location: Erie, Pennsylvania

Challenging Approach on Hole 15
Feature Holes Descriptions:

The opening hole plays as the course's most difficult and sets the tone for your round. Your tee shot must clear a wide, steep-sided ravine leading to a raised fairway. The fairway then doglegs right and descends to the accessible green, protected by two fronting bunkers. A par on the first hole will set up your round for success. The fourth hole is a beautifully designed risk reward hole with plenty of risk on the left as a meandering creek winds its way from the tee and crosses in front of the green.  Nothing more than a long iron or hybrid is needed off the tee to the wide layup area short of the crossing creek. Boulders and rocks frame the upslope while a hillside protects the back of this relatively flat putting surface, easily accessible with a wedge. Big hitters have a chance to shine taking aim at a thin strip of bail-out front and left of the green, leading to a splendid opportunity for an eagle putt.  
Editor's Shot Maker's Picks: Whispering Woods
| | | | | |
| --- | --- | --- | --- | --- |
| Featured Holes | Hole 1 | Hole 4 | Hole 15 | Hole 18 |
| Par | Par 4 | Par 4 | Par 5 | Par 4 |
| Black | 445 | | 561 | 435 |
| Blue | 426 | 288 | 536 | 411 |
| White | 376 | 266 | 520 | 381 |
| Yellow | 360 | 185 | 431 | 341 |
| Red | 349 | 160 | 408 | 309 |
| HCP-Men | 1 | 11 | 6 | 4 |
| HCP-Women | 1 | 11 | | 4 |
Number 15 is the longest par five on the golf course and features a grip it and rip drive to the plateau fairway, then leaving you a tough decision. A 100 yard wide, deep, steep-sided ravine is perfectly placed to force a layup for all but the longest hitters. The conservative play leaves a difficult long iron, while the courageous player will have a wedge to the uphill green. The demanding finishing hole is a very tactical  par 4. Designed as a severe dogleg left, the hole bends back on itself like a boomerang. The smart play with the drive is to aim for the traps on the right leaving you a look at the raised green protected by two fronting bunkers. You must avoid the left side of the fairway as you'll be blocked out by the trees, forcing a lay-up and a challenging up and down chance to finish with a well deserved par.

Challenging Slick Greens
Thousands of Canadians head through Erie each year. Golfers would be remiss in not having packed clubs should you find yourself on the south shores of Lake Erie. Whispering Woods welcomes Canadians ready to show off its fine design and challenging routing. A solid test of skill with many memorable holes will certainly satisfy your appetite for a premiere public play golf experience and some beautiful surroundings. Be sure to check the card before you play, this is a challenging course, so a step forward might be the best way to enjoy this
Course Stats:
| | | | |
| --- | --- | --- | --- |
| Par 70 | Yardage | Rating/Slope-M | Rating/Slope-F |
| Black | | 74.0 / 144 | |
| Blue | | 72.0 / 142 | - |
| White | | 70.4 / 138 | - |
| Yellow | 5298 | | |
| Red | 4760 | - | 69.2 / 123 |
Drive Times: Toronto 3 hrs, 30mins, Buffalo 1 hr, 50 mins, Cleveland 1 hr 30 mins.
Contact:
Whispering Woods Golf Club
7214 Grubb Rd.
Erie, PA,
16506
814.838.9942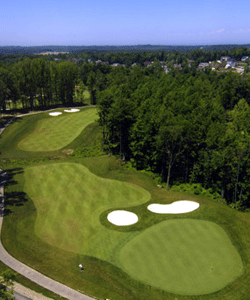 Hole 18