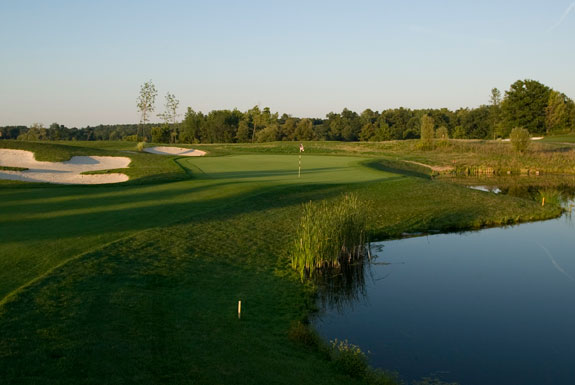 Golf Canandaigua Style: Part 2

Ravenwood Golf Club:
Naples, the charming village located at the southern end of Canandaigua Lake, is home to this local gem featuring considerable elevation change, stunning vistas, and challenging golf. Not a long test, Reservoir Creek is a shot maker's dream. The course opens with a short par 4 playing uphill to a three tiered green site. Climbing up the mountain the course plays through wooded valleys and over a lush table land until reaching the high point on the tee of hole five. This short par 4 commands spectacular views of the entire area and the surrounding peaks. Hole six is a devilish par 3 playing over a pond to a hillside green filled with slope. The finish on the front side is a precision par 4 playing downhill 392 yards through a chute of trees guarded by OB on the right.
The back begins with another precision hole, a par 4 playing 368 yards. The 10th has a narrow fairway framed by a steep hill side right and a steep fall off on the left. Down the middle is the only option here. Hole 11 is a brute of a par 3 playing uphill to a tricky sloped green. Twelve, another par 4 playing uphill requires two mighty whacks to get home in two to the high perched green. Hole 17 is a downhill par 3 playing to a heavily sloped green protected by a hill on the right. This local favorite is a fun, challenging golf experience. Playing to a Par 71 with yardages between 4950 – 6300 yards, placement and accuracy are the keys to success here. Beautiful mountain views and the small town charm of Naples and the club, make Reservoir Creek a perfect place to spend a day.
Course Stats:
| | | | |
| --- | --- | --- | --- |
| Par 72 | Yardage | Rating/Slope-M | Rating/Slope-F |
| Tourny | | 74.5 / 140 | |
| Black | | 72.1 / 130 | |
| Mens | | 69.6 / 126 | |
| Senior | | 66.9 / 118 | |
| Forward | | - | |
Access: Public
Contact:
Ravenwood Golf Club
929 Lynaugh Rd.
Victor, NY 14564
(585) 924-5100

Golf Canadaigua Style Part 1: Bristol Harbour
Golf Canadaigua Style Part 3: Reservoir Creek