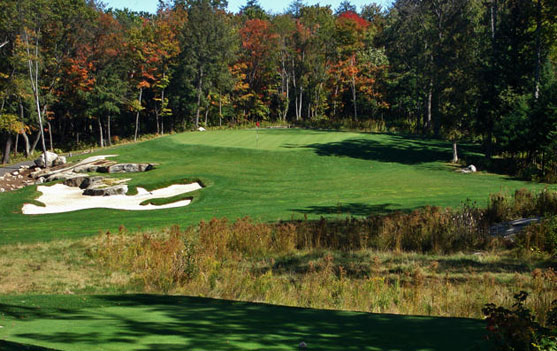 Ridge at Manitou GC
Hole # 3: Par 3, 116 - 171 Yards
Posted by Alistair Orr
It's April 1st and the golf season is in full swing somewhere, just not here! I'm staring out my window at a blanket of snow and golf seems a long way off. Mother Nature has played a cruel April Fools joke on those of us with golf addiction issues. My mind wanders to one of the final rounds I played last fall. It was late morning on a beautiful sunny fall Saturday and I found myself on the first tee at The Ridge of Manitou. I'd seen the pictures and heard all the hype and was ready for a great day of golf. The Ridge did not disappoint and fall golf in this part of the world is as good as it gets.
Description:
The interesting feature of this par 3 is the placement of a rock walled bunker 20 yards left and short of the green. From the elevated tee it appears to the eye to be right against the putting surface. Although there are no greenside bunkers or water hazards on this hole, the presence of the granite outcrop and the surrounding trees create the illusion of a very small target. This is a perfect example of a really well designed short par three. \
The 3rd hole has a couple of strategic options to consider. Because the tee shot is elevated and there is considerable trouble over the green, always chose one to one and a half less club than the normal yardage would dictate. Also, don't short side yourself to a left pin position as the green will repel errant shots down into an area with a number of granite rocks and trees. The prudent play here is to take aim to the right of the pin and allow the slope to take the ball to the hole.
Ridge at Manitou
McKellar